Fantasy Coins
I've been looking for a method to produce fantasy coins to use as props during RPG games.
While making real coins with the tecnique used in historical times, up to the Renaissance, would be interesting, it requires nontrivial tools and skills, not to speak of the expense in raw materials.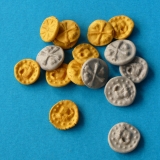 Instead I've applied a similar tecnique, with dies and some sort of "blank" to cernit, to make a lightweight and cheaper alternative that looks quite practical for gaming purposes.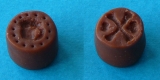 The first step is carving a die: from some scrap cernit make a cilinder with the desired diameter and about two fingers high; make sure that the ends are flat and cut it in half lenghtwise with a sharp tool, as to minimize deformation.
On the cut faces, carve the desired images: I use some carving tools for linoleum, a pin and a round pin head. When you're satisfied with the result bake them for some 20 minutes at 110°C and let them cool, possibly a whole night, at least a few hours. I still haven't found a method to test the die before baking.
When the die is ready, prepare the blanks: prepare some metallic cernit and then divide it in small spheres, about half the die in diameter. Do do so there are two methods: the one I've used is to roll it in a log and cut some similar pieces, the other — more accurate — one is to roll it flat and use something like a ring to cut precisely identical pieces.
Wet the die with some water, put the blank in the die, close it, remove the coin to the oven tray and proceed with the next one.
Bake as usual for cernit; since they are quite thin 15 minutes are probably enought.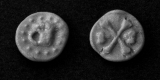 My first attempt with the subject, these are common coins that could circulate in a dwarven kingdom. With a diameter of slighty less than 2 cm, they are smaller than the standard D&D coinage, but more in line with historical examples.
On the obverse they feature the real dwarven national symbol, icon and deity: beer, while the reverse shows an X (maybe a G rune?) for the value and a couple of two bladed axes / warhammers, another reminder of dwarveness.
I only had silver colored metallic cernit, so I tried to make a copper lookalike by mixing colours, but it came out too pale, more like heavily debased silver (something that no real dwarven nation would ever think to use: these are probably fakes from a nearby elven country :) ) than real copper, so other denominations had to wait until my next stop at the cernit store.
The next metallic cernit tried has been gold: it seems to be a little too yellow and more brittle than silver, but the latter may be because of the lesser amount of cernit used for each coin.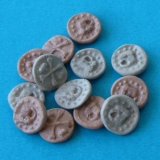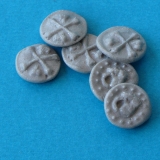 The second die I've made has been one for elven coinage: it features a tree on the obverse and a star on the reverse.
I was afraid that the thin lines could have been problematic, but they have shown quite well on most coins, showing that this method allows more detail than I suspected.
I've used less cernit than for the silver coins to get a thinner piece: this makes the stamped coin harder to remove from the die, so most pieces are a little deformed.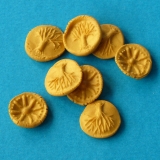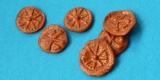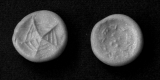 Some more tests lead to a coin for a spider-worshipping society like the drow one, featuring a spider web on the obverse and five points and some outlandish writing on the reverse.
I've also tested a new material: some outlandish metal, possibly never seen on earth, that I had meant for some snake themed based stygian coins whose die I still couldn't make as I wanted. It is made with gold cernit mixed with green and just a hint of blue.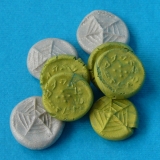 Send a comment
: unless requested otherwise I may add it, or some extract, to this page.