Besta Coat Rack
I needed a place to keep a couple of jackets instead of hanging them on the wardrobe door handles, and I decided that a BESTA shelf with a GRUNDTAL bar on the bottom would probably work and look good with the nearby BESTA bookcase.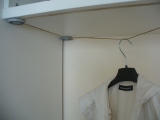 I went to the local IKEA, bought the shelf, and found out that GRUNDTAL bars in the size I needed were out of stock. I postponed buying the bar, went back home, mounted the shelf, looked at the number of small feet left over from filling the home with BESTA units used as shelves and I had an idea.
10 minutes and a bit of rope later, this is the result: a coat rack that costs just a few cents (beside the 40.33 € shelf I would have bought anyway, of course).
I'm now testing it for longevity: if it is stable enough I will probably buy some nicer looking black rope, and possibly cover the legs to improve their look too.
Instructions
Beside a 120 cm BESTA shelf you need about 325 cm (or 650 cm if thinner) rope.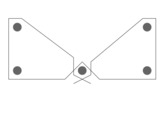 After the shelf is mounted to the wall, screw the feet stopping about ½ cm from touching the base. Starting from the center-front turn the rope around the feet as in the image, doing either one or two turns depending on the rope strenght. Close the rope loop with a square knot, finish screwing the feet.
Use hangers on the diagonal or front rope to hang clothes.
Send a comment
: unless requested otherwise I may add it, or some extract, to this page.