Sewing Tools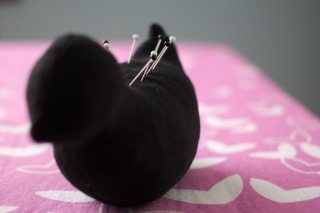 Sometimes, I feel like sewing, but I want instant gratification (or I don't have time for a serious project): this is the right time to make some useful accessory using scraps and leftovers.
Some of those end up being nice enough that the patterns are worth saving, and they are published here.
Pincushions
Because reasons, I have lots of black jersey leftovers, too small to make actual clothing with, but too big to just throw away; just right, however, to make big pincushions with.
Papero, pictured above, has given its enthusiastic consent to be pierced with color coordinated pins in an aesthetically pleasing (and safe) pattern, while Star is just that, a simple 5-pointed star.
License
These patterns are free. You can redistribute them and/or modify them under the terms of the Do What The Fuck You Want To Public License, Version 2, as published by Sam Hocevar. See http://www.wtfpl.net/ for more details.
Send a comment
: unless requested otherwise I may add it, or some extract, to this page.