Corset Bits
Since I've made my first corset (and talked about it with crafty friends), sometimes I've been asked questions about the materials used, especially the boning, as that's something that is outside the daily experiences of most people. This has often resulted in me running to the sewing room to get the boning leftovers to show them around — or whishing I could do so when I'm not at home.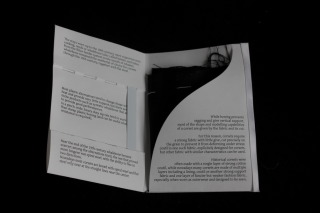 One evening, I spotted one such leftover, a little (<10 cm) bit of flat steel, and went to bed thinking that it could probably be carried in a small booklet for such cases, together with the bit of coutil I'm carrying in my bag in the hope to find something similar at one of the local fabric shops.
The next morning, before breakfast, I had to make it, and as I finished drinking my tea I had a template with folding and cutting lines to get an A6(ish) booklet out of an A4 sheet of heavy paper with pockets for boning and fabric samples.
Some text and cliparts later, plus cutting and gluing, the result is an (hopefully) informative prop that I can easily carry around and use when a chance of talking about corsets appears.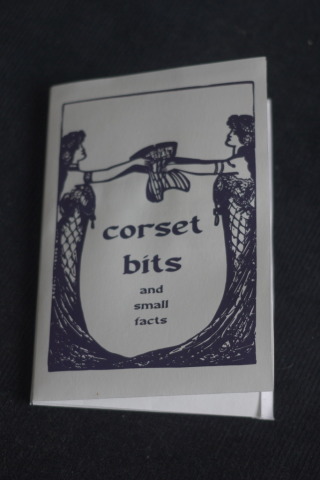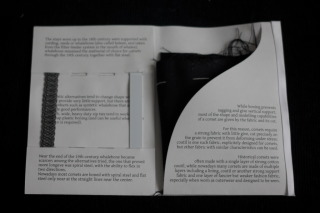 If, for some strange reason, you want to make one yourself, you can download the svg from this site, edit the contents to your taste (you will need the fonts Nostalgia (packaged in Debian under ttf-aenigma and Gentium (packaged in Debian as fonts-sil-gentium). Or you can download a non-editable PDF that doesn't require any font.
After you have your file, print it on heavy paper (mine was 120g/m²), cut on the black lines, score and fold on the light grey ones and glue the inner pages to the outer ones so that you get the result shown in the pictures.
I've used a bit of bias tape (itself a leftover, altought not from a corset) to glue the right edge, to improve the shape of the fabric folder.
I forgot to do it, but in case I'll make a new one I think I will reinforce the holes where the bones slide in with some tape, as that is prone to be ruined when pulling the bones out.
This is licensed under the Creative Commons Attribution ShareAlike license.
Send a comment
: unless requested otherwise I may add it, or some extract, to this page.