Programming the iCE40HX1K-EVB FPGA with a Bus Pirate
Now that it is possible to use some FPGAs with a fully Free Software toolchain, I've started to play with them (as apparently everybody is doing these days), currently just with the aim to learn something new (yay for solutions in search of a problem!).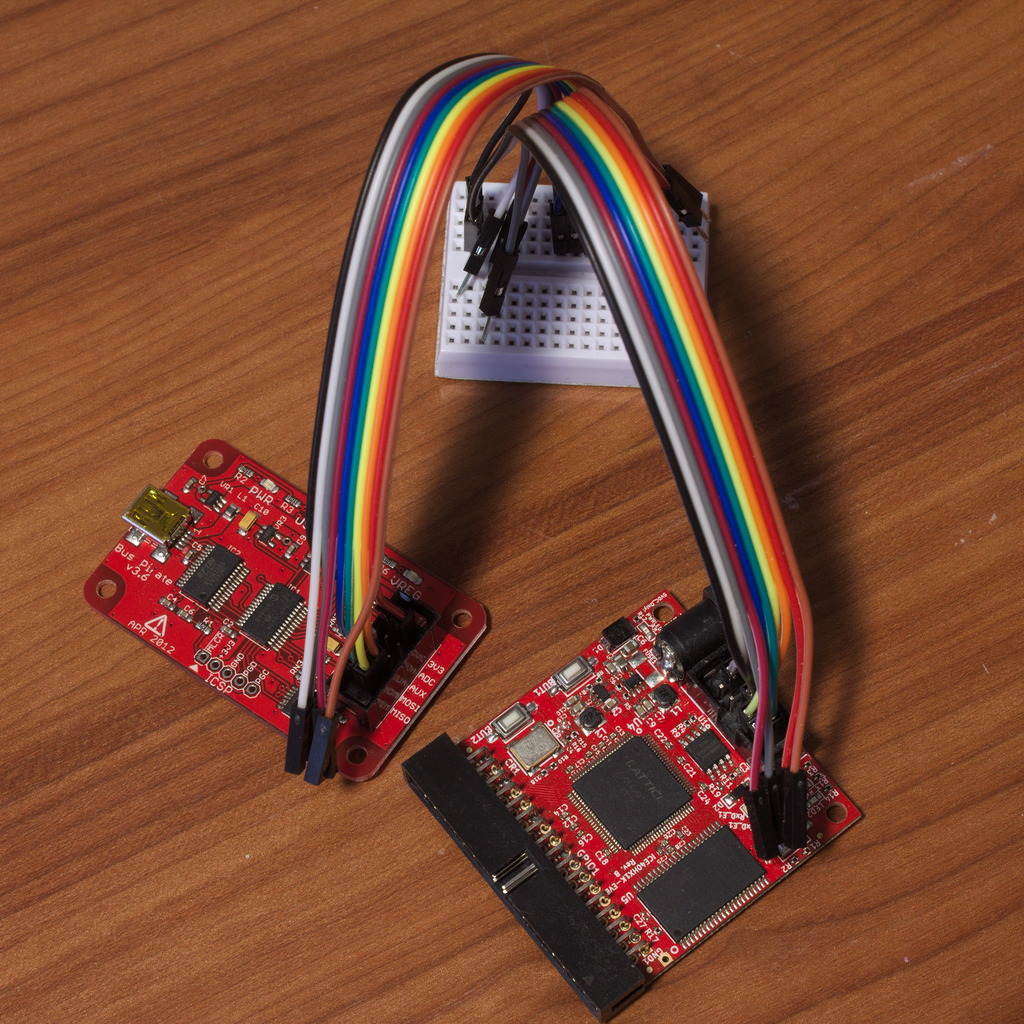 Since we were already buying stuff from Olimex, my SO and I decided to buy an iCE40HX1K-EVB, and then proceeded as usual to leave it on a shelf while working on a thousand other projects, but in the last couple of weeks I finally started to try and let the usual LED blink.
In order to learn some verilog I'm using the tutorial by Obijuan of FPGA-Wars fame. Of course, that is designed for the ICEStick, which can be flashed via usb (like the Icezum Alhambra), so I had to follow the instructions on the Olimex wiki to find how to flash my board via SPI.
According to tradition, I choose to do so on the very day when my SO was using our OLIMEXINO-32U4 to do reflashing tests for the TERES I keyboard controller, so I couldn't use it as recommended. We do however have a Bus Pirate which provides slow SPI and can be used with flashrom, and there were instructions on how to use flashrom on the raspberry, so I only had to find out which pins went where, and started to write this page to remind me of the result.
This is easy enough that after an afternoon of attempts nothing worked and I moved on to just following the first pages of the tutorial using the simulation, postponing the use of actual hardware. A couple of evenings later, my SO grabbed the oscilloscope to help me debug the issue, I carefully reconnected everything while passing through a minibreadboard in order to have room for the scope probes and decided to run flashrom another time, just to go back to the non-working known state.
This time, it worked out of the box, surely thanks to the Menace of the Probes (and not because of me having failed to connect something with dupont cables the first time), so I could continue exploring this FPGA, and this article contains my resulting board-specific (or mostly board-specific) notes.
Send a comment
: unless requested otherwise I may add it, or some extract, to this page.