Hamburger Bread
These semisweet buns are perfect for hamburgers.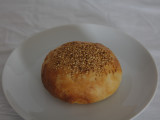 The quantities in this recipe were originally based on 2/3 of another recipe, as this fits better in the limits of my bread machine; I've left the amounts this way so that they can easily be readjusted to 1 kg flour, no message is meant on the moral qualities of this bread or those of hamburgers :)
The buns are "european-sized": for bigger hamburgers you may want to cut the dough in 8 parts instead of 12.
If made in advance, they can be cut in half and frozen; they can be then defrosted and grilled together with the hamburger meat.
The lard in the recipe is quite important for texture and taste: as a (lacto-ovo) vegetarian or pork-free variant one could use the same amount of butter instead, giving a slighty sweeter taste, but oil isn't going to work.
Recipe
For 12 buns:
666 g flour
50 g yeast
33 g sugar
100 g lard
266 g water
2 teaspoons salt
sesame seeds
Mix the ingredients except the sesame seeds as usual for bread and knead until you have a smooth dough; place it in a covered bowl and let rise for about 1 hour in a warm place.
Take the dough out of the bowl, knead it a little to remove some air, cut it in 12 parts and form small balls. Place them on a baking sheet, sprinkle some sesame seeds on the buns, cover with a moist cloth and let rise for another hour.
Preheat the oven to 200°C and bake for about 15 minutes, until golden brown in color.
Send a comment
: unless requested otherwise I may add it, or some extract, to this page.