Sorbetto
I've always believed that making ice cream at home without an ice cream maker was an easy but boring endeavor requiring manual intervention every 10 minutes or so, and never bothered to try.
A few weeks ago, my mother-in-law made an excellent apple ice cream, I asked for the recipe and found out that it was so easy even a lazy person like me could do it. Since then I've made some kind of sorbetto at least twice a week.
Choose your ingredients in the list below. Dice any solid fruit and blend it in a bowl using a stick blender. Add the sugar (or syrup), water and any liquid ingredient, continue mixing with the stick blender, until uniform.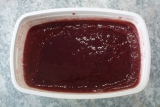 Put in in a freezer-safe container and leave in the freezer for a couple of hours. Take the container from the freezer; it should have started to freeze near the walls, mix with a fork, return to the freezer. Repeat every hour or so, until frozen through.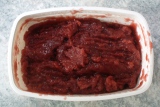 It will be ready in about 5-6 hours. If not eaten soon you may have to shave it again with a fork.
It can be served in a champagne flûte as a light dessert (or between courses) after a rich dinner, or in an ice cream cup as a regular dessert or snack.
For 5-8 people; will fit in a 500 g supermarket ice cream tub (but weight a bit more, since there is much less air; one tub i weighted was exactly 666 g).
Note: I use caster sugar and add it directly to the mix; with regular sugar it may be better to prepare a syrup by mixing it with the (cool) water or liquid ingredients.
The apples used are mid sized (about 140g diced) and quite sweet, such as golden delicious.
Send a comment
: unless requested otherwise I may add it, or some extract, to this page.