Zucchini and Cous Cous Savory Pie
Savory pies are a staple in my home, usually with whatever can be found in the fridge. Since they are good both hot and cold, they are also excellent for bentos, either as a planned leftover, or as a single-component-yet-balanced lunch.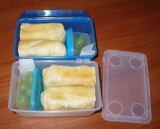 In this case I had little time, so I assembled two filling lunches for a day outdoors with a whole pie and some grapes for dessert. On a work, sedentary, day I would have used just half pie, possibly adding some other vegetable.
Recipe
1 roll premade puff pastry dough
6 mid-size zucchini
250g ricotta
40g instant couscous
parmesan
Olive oil for cooking
salt and pepper (or a spice mix: I often use sichimi togarashi) to taste
Dice the zucchini and cook them in a covered pan with salt a bit of oil.
When they are done, open the pan, leave them on very low heat to dry a bit and cool.
Add water the couscous as per the instructions on the package, let rest.
In a bowl mix the ricotta, zucchini and cous cous; add the spices.
Put the dough in a baking dish, add the filling and fold the dough to cover the top.
Bake at 180° until golden.
Send a comment
: unless requested otherwise I may add it, or some extract, to this page.