Apron Bag
I needed a place to keep my current craft project(s), including yarn when knitting or crocheting as well as scissors and other small tools. I had the idea of making a bag that can be worn like an apron, with open pockets for small tools in the front.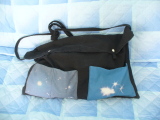 Everything was made from stuff I had in my stash from previous projects: the main body uses some black cotton canvas, the pockets and some lining was done with leftovers of bedsheet fabric bought by weight at a factory outlet.
Pattern
You'll need:
sturdy cotton canvas: - main body: 2 rectangles about 60 x 40 cm - front flap: 1 rectangle about 60 x 15 cm (same width as above) - 2 strips 140 x 8 cm (or cloth width, keep the edges) - 4 small strips 10 x 3 cm
printed cotton: - front flap: 1 rectangle about 60 x 15 cm (as big as the - left pocket: 2 rectangles about 30 x 18 cm - right pocket: 2 rectangles about 26 x 20 cm
sewing thread
2 press buttons
Create the pockets: lay two rectangles right side facing and sew all around the border leaving a gap about as wide as your palm; turn them inside out; repeat with the other pocket. Place the pockets on the front main body panel with the gap on the bottom or side, adjust them so that they are in a nice position (remember to consider the stitching allowance and front flap); sew them in place.
Prepare the straps and loops: fold in the long sides of the long strips, then fold in half; sew the whole lenght near the folds. If you kept the selvedge you won't need to finish the short edges. Zig-zag the edge of the small strips, fold them in three lenghtwise, sew near the edges.
Line the front flap: lay the canvas and printed cotton right side facing, insert two loops in one of the long sides and sew that side and the two short ones. Turn it inside out. Lay the front flap on the back panel, with the canvas side touching the right side of the panel, sew about 2 cm from the border.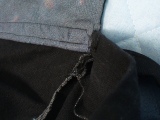 Assemble the bag: lay the front and back panel right sides facing, sew all around with 1 cm sewing allowance; finish the right edges with zig-zag. Hem the top edge of the bag, including the back in such a way that the front flap stitching alignes to the hem edge.
Add the buttons to the front and front flap, aligning them with the loops.
Gallery
Send a comment
: unless requested otherwise I may add it, or some extract, to this page.