Pair of Pockets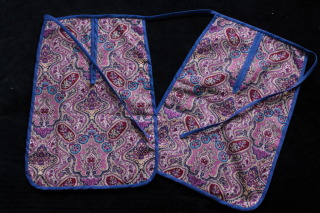 My mother gave me a lightweight circle skirt that is pretty nice but has a glaring lack of pockets.
Because of the way it's made, however, one of the side seams lies quite towards the back, and the other seam already has the zipper; I'm also afraid that the weight of a phone or a few keys can ruin the hang of the skirt, or even damage the fabric.
Doing without pockets, however, isn't something I want to do, so I've been thinking about historical solutions that could be adapted to solve the problem, and the 18th century came to my mind.
Pair of pockets of that time were a detached item tied around the waist — and genuinely huge, which is a definite plus.
They are also an easy and quick project, and testing them does not require changes to the skirt, as I can access at least one of them through the zipper (and open a slit in the other seam if the test is successful).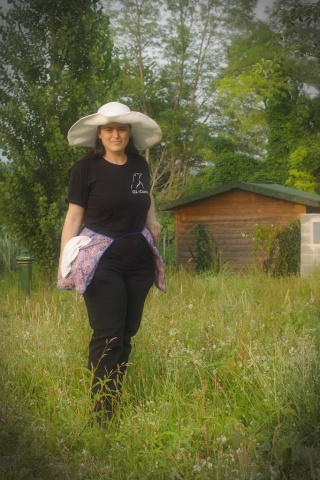 At the moments I have no plans to make a 17th century outfit, so I'm not worrying too much about historical accuracy and I've used a modern cotton print and bought bias tape; I did sew it by hand as it is quite a small project, I already had something to work on by machine and needed something small and portable for those bits of free/waiting time instead.
If I ever decide to make such an outfit, I can still wear them, as they remain covered by the dress, especially to carry around a pair of more historically accurate ones in the making :)
Historical examples look pretty close in size to an A3 sheet, but I'm pretty short and such a sheet on my side looked too big, so I tried with A4 (too small) and ended up settling on B4 (just right).
While showing the pattern to my mother, I also found out that it's most likely that similar pockets survived into the 1960s in the habits of at least some catholic nuns in Italy, just white and undecorated. I'm not really surprised by this, considering how conservative religious habits can be, and how practical this kind of pocket is.
The project took about 40 cm of cotton print from my stash (original price 2.5 €), plus some 4-5 meters of bias tape, cotton sewing thread and beeswax.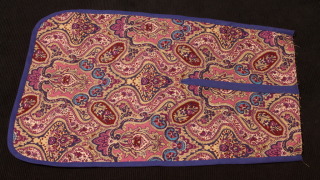 The links in the See also section already come with detailed instructions, and I've added schematic ones to the pattern itself.
I've then added detailed instructions to my patterns website.
The pattern in PDF is already split on two sheet that have to be glued / taped together aligning the crop marks. The SVG can be scaled up or down to taste.
I've based my model on the following articles:
Send a comment
: unless requested otherwise I may add it, or some extract, to this page.