Parallelepipedal Handbag
I needed a small bag. It was supposed to fit inside my daily backpack, but also be easy to grab and bring whenever backpacks are forbidden (such as inside more and more banks — and shopping centers) to keep the bare minimum things that I need in those context.
I also wanted to experiment with using zip-ties as boning to provide support and shaping to bags; this part has been quite a success, and I plan to continue to use them in further projects.
While I've made the first mock up in January 2017 and used it since then, the project is still in progress, and this page will be updated with more pictures from the next iterations, including step-by-step ones for the tutorial.
You will need to cut the following parts both in fabric and in lining (all measurements are given without sewing allowance; the printable pattern include the recommended allowance of 2 cm). Values in square brakets are for the thinner variant.
1 x front, bottom and back (one single rectangle, 13 x 46[42] cm)
2 x side panels (rectangles, 8[4] x 19 cm)
1 x top flap (made of a rectangle 21 x 16[12] plus a trapezoid with 21 cm base, 8 cm height and 45° angles)
You will also need the following notions:
At least 50 cm of 25 mm webbing (or more, at your discretion)
4 d-rings, 30mm wide
2 press buttons or 5 cm of velcro
8-10 zip-ties, long enough to get 8 straight pieces 18.5 cm long and two straight pieces 13 cm long. I used 4.8 mm wide ones; wider ones will require wider sewing allowances.
This bag uses zip ties to provide shape, so it can also be made in thin and/or soft fabrics, altought you want them to be sturdy enough to survive the wear and tear of a bag.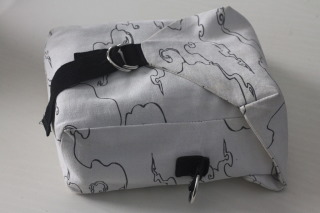 My first mock-up was made in thick but soft cotton fabric from IKEA and ended up being quite usable, even if of course it's not water resistant. I have vague plans to maybe try waxing it, but they may end up in nothing. I've used the same fabric for both the outside and the lining.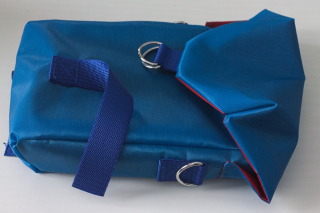 The second bag was a thinner one in silnylon: the slipperyness made it a bit harder to make. Again, the same fabric was used for the outside and the lining (in different colours so that it shows better in the pictures — and because it was less transparent than two layers of the same colour).
I plan to make another using heavier coated cordura for the outside and thin ripstop nylon for the lining, when I'll get big enough leftovers from other projects. At that time I will also take step-by-step pictures for the tutorial.
In theory the bag could be made without a lining, but between the outer accessories and the zip-tie channels there is a lot of stitching that will then show on the outside and possibly be caught and ruined by items on the inside. You would also need to protect the raw edges in some way.
Send a comment
: unless requested otherwise I may add it, or some extract, to this page.