Edwardian Outfit(s)
For quite some time I've liked the general idea of making historical clothing and while I've learned a number of useful techniques for various eras I've yet to make a complete outfit.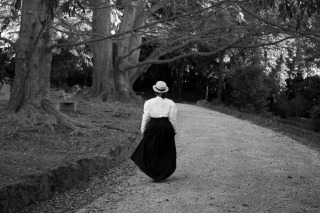 One issue that I had is that I tend to have multiple projects (in different crafts) active at the same time, and thus any one project tends to take ages to finish. Since the time investment is significant, I'm less prone to use costumey materials, prefering quality and longer lasting materials. This of course raises also the material costs, so making something that can only be worn at some special event once or twice becomes not so attractive.
One of the periods I like, however, is the late victorian - early edwardian and clothing from that time tend to be not so different in their general shape from modern ones, and thus can be used in an everyday's context [1], especially when worn with modern underwear and/or mixed and matched with other modern clothing.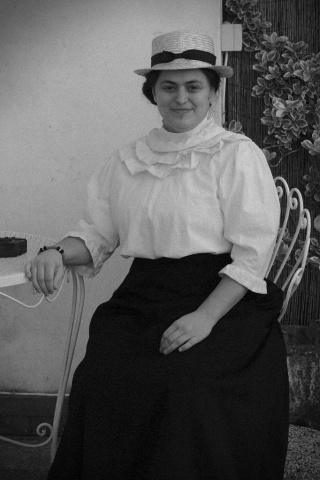 So, this project was born: a complete edwardian outfit that could be worn for cosplay at Lucca and similar events, but also as regular modern wear.
While this project has been more-or-less active for a couple of years, finding out about the "Everyday Vintage Revolution" theme of the 2017 Competion at Your Wardrobe Unlock'd was quite an incentive to work on it and reach at least a wearable state, even if some of the out-of-sight parts are still missing. It also encouraged me to split the outfit and wear its componets individually, so that they can be worn even more often.
My character is a middle class woman who works, depending on the context (and its amount of steampunkishness), as a human computer or as a programmer for the analytical engine. Like me, she can then afford some nice things and quality materials, but only if she can get good use out of them, and thus she must keep practicality in mind when choosing what to wear.
| | |
| --- | --- |
| [1] | ok, maybe in my case not exactly everday, since I'm a programmer working from home, and my everyday clothing is jeans and a t-shirt, when I'm being decent and not wearing pajamas. It can be worn in a slightely more formal than everyday context, such as when visiting the in-laws or similar, however. |
Items
Shirtwaists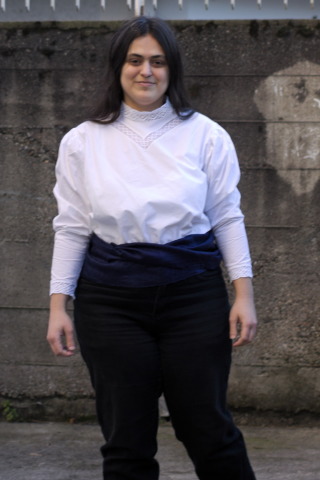 For the shirtwaist(s) I've bought a pattern by wearing history, since this was my first attempt at clothing from the era and having instructions was definitely a plus.
After a first mockup for fitting, I changed the sleeve to give it a moderate puff, made a second mock up, bought some cotton poplin and enought cotton lace for the inserts and neck and then made the final shirt (including learning how to do insert lace) in a hurry when I realized that a) a friend of mine was marrying in 3 days b) the only modern shirt I owned and planned to wear didn't fit anymore.
The amount of lace is probably a bit too low for historical examples, but makes it very easy to wear in modern settings.
Months later, at a fair trade event I was accidentally followed home by some unbleached organic cotton worked with small geometrical designs and decided that it would have been nice for another shirtwaist from the same pattern, this time whith short (elbow lenght) sleeves (also because the fabric wasn't enought for full sleeves). This was embellished with simple ruffles made from the same fabric, more improvised than planned.
This pattern has a drawstring on the waistline, making it easy to wear it both with and without a corset, but it is visible on the outside, so when wearing it with modern jeans and their low waistline I usually wrap a silk scarf as a belt to cover it.
Skirt
For the shirt, I drafted my own simple pattern using the instructions below. I designed the closure in the back to overlap in such a way that the waist width is quite adjustable, and prepared thread bars to close it in three different positions: corseted waist, uncorseted waist, uncorseted waist after Christmas lunch. This allows me to give a longer life to the shirt, making it adaptable to my fluctuations in size.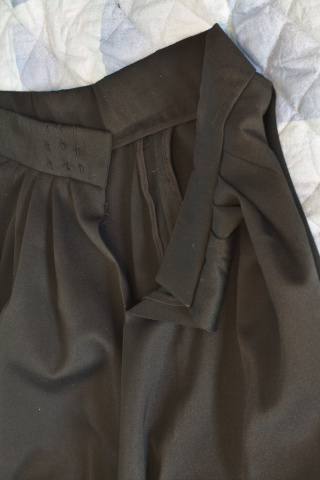 For the fabric, I've used a lenght of wool gabardine that my mother bought in the 1980s, used only partially and ended up in my stash (after a bit of puppy-eyes on my part). It was just long enough, and I wasn't able to add the high hem that would have been suitable for the era / shape, but only a simple folded one.
Corset
My corset drafting skills are still very basic, so for the time being I'm just using the first corset I've made, a simple underbust modern one paired with a bra.
I do plan in the relatively short term (I expect it to take a year or so, but...) to make a midbust one, for which I already have some materials, but I'll play the old lady card and use an older "victorian-ish" line instead of the s-bend that I'm not sure my back is ready to wear.
Other underwear
The petticoat is made from the same pattern as the skirt (actually, it was my shirt "mockup"), about 10 cm shorter and with a flounce at the bottom, made with cheap cotton.
I tried to draft some split drawers, with mixed results: they are wearable, but I'm still not confident enough in them to actually publish the pattern.
Instead of a chemise and corset cover I'm temporarily wearing a couple of cotton jersey tops that more or less do the job, until I have something better.
As for socks, well, I'm wearing modern cotton ones that are too short, but nobody is going to see a lady's socks, are they? (and they shouldn't influence the shape of the outer dress, anyway.) Eventually, I want to improve on them, but they will probably be among the last bits to get accurate.
Accessories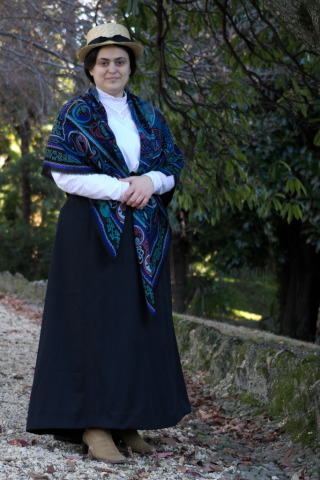 For accessories, I've bought a cheap boater hat, which is quite suitable for a day at one of those prealpine lakes that are easily reached by train — or possibly cable car to the mountains just above them — both fashionable holiday destinations in the 1900s (and of course, very close to where I live in the 2010s). I plan to make myself some other hat, more decorated, possibly a felt one, so that I have something suitable also for winter.
Shoes are just a pair of modern ones that don't look extremely inaccurate: this is something that I may work on when I have some budget to dedicate to it.
I've started to knit some lace gloves: they are going to take ages, but one day they may be ready.
When the weather requires it, I tend to wear a wooden shawl that I already owned; probably the pattern isn't historically accurate or anything.
Sources / Patterns
Valentina files for all of the patterns that I drafted myself are available from the corresponding git repository; a measurement file is included with just the measurements needed, ready to be customized with your values.
Skirt
The skirt is a simple 5-gore skirt based on the instructions on [MMG1907]
Waist circumference (original and as reduced by the usually worn corset)
Hip circumference
Height from waist to hips (on the side)
Height from waist to floor (on the front)
Height from waist to floor (on the side)
Height from waist to floor (on the back)
For the petticoat, shorten all panels by 10 cm at the hem.
Cut the front panel on the fold and the side and back panels twice. For the skirt cut also the waistband once and half the height of the waistband in interfacing. For the petticoat also cut enought rectangles for the flounces.
Sew the panels together, starting from the back (so back + side, side + front, front + side, side + back). On a petticoat you can use french seams, while for the heavier fabric of a skirt regular seams are fine, finishing the raw edges by hand with an overcast stitch or wrapping them in bias tape.
For the petticoat sew the flounces.
Sew also the back seam, leaving the last 12 cm open.
Baste the interfacing to the front of the waistband. Pin the centre of the waistband to the centre front of the skirt, pin (or baste) the front and side panels to the waistband. After the side / back seam pleat the fullness of the back panel so that the end of the waistband lines up with the centre back of the skirt; leave some flat space for the overlap.
Fold the waistband with the right sides in the middle, sew the sides closed, turn around, press and sew close.
Hem the skirt.
Reinforce the point where the back seam ends with a few hand stitches.
Attach hooks and make thread bars on the waistband, at the right widths for corsetted and uncorsetted waist.
References
The Free patterns have been inspired by a number of period books, sometimes adapted with some knowledge of modern systems. The following books, all available for download from archive.org, have been consulted.
Send a comment
: unless requested otherwise I may add it, or some extract, to this page.